Zenkoku Hougendanwa Database [Japanese Dialect Database]
Contents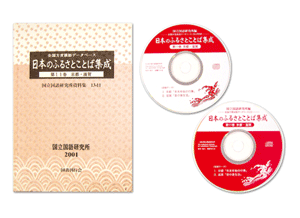 Overview
This is an information packet which contains acoustic and written data of Japanese dialect discourses spoken by the old native speakers. The data were collected in the project for the recording and preservation of the traditional Japanese dialects held by the Agency for Cultural Affairs during 1977–1985, and they will be compiled into 20 volumes in total (available in CD-ROM / CD / BOOKS). All volumes would provide us with valuable information to know the current status of the Japanese dialects, and it would contribute to Japanese language research and education.
Books
The dialect conversation was transcribed in katakana and the translations in standard Japanese were affixed. Transcription and corresponding standard Japanese translations were aligned together for better understanding. Furthermore, the supplementary audio CD will assist your studies.
CD
The dialect speeches of entire conversation were recorded. Even if the listener doesn't know particular dialect, he/she would be able to understand the speech by using the corresponding books.
CD-ROM
The text and acoustic data of the dialect conversations can be played at will. The pages of the books were converted into image files allowing viewing by your personal computer. Each page is linked to the acoustic files allowing immediate playback of audio files.
The in built search engine allows the conversation data to be searched.
In addition, the transcript of the dialect conversations and corresponding translation in standard Japanese are included in the text format. These digital data can easily be modified and used for research and/or educational purpose.
The digitalization of collected data and the production of CD and CD-ROM were funded by the 1997–2006 Scientific Research Result Publication Facilitation Fund (for Database).
---